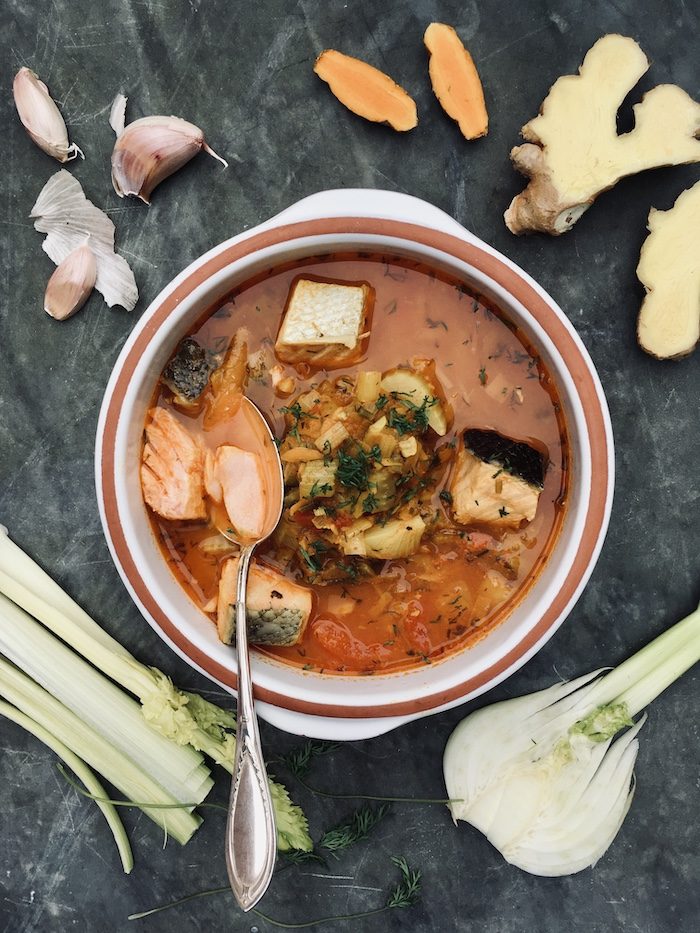 WHY?
Most Western diets fall short omega-3 fatty acids.
Salmon is rich in omega-3 fatty acids which are anti-inflammatory.
In most of the Western diets, the ration of omega-3 to omega-6 fatty acids is out of balance – mostly due to the high consumption of processed vegetable oil.
This soup is a winter staple in my household. It provides everything you need for a balanced meal, is rich in taste and you can batch cook it.
Lemon Salmon Soup
Ceviche inspired marinated salmon cubes are the perfect addition to this hearty winter veggie soup. Make it in bulk and enjoy regularly for optimal omega-3 intake.
Ingredients
1

kg

salmon filet, skin on, scales off

cut in big cubes

2

lemons

zest and juice

7

tsp

sea salt

unrefined

2

stalks

leek

cut in slices

2

bulbs

fennel

(green on), cut in slices

4

cloves

garlic

cut in small slices

1

slice

butternut squash (or two sweet potatoes, ca. 250 g)

grated

1

can

tomatoes

diced

5

cm

ginger root

peeled, finely chopped

5

cm

turmeric root

cut in slices

3

tbsp

tomato paste

1

big bunch

parsley

leaves and stalks, finely chopped

1

big bunch

dill

finely chopped

1.7

l

water (or homemade fish stock)

6

anchovies

jarred/canned

5

tbsp

olive oil

1

tbsp

black pepper

1

sheet

kombu
Instructions
Cut the salmon into medium size cubes (ca. 50 pieces). If cutting through the skin is difficult with a knife, take scissors. Place the cubes in a big bowl and season them with the lemon juice, zest and 2 tbsp of salt, mix carefully. Transfer the cubes into a glass container with a lid, make sure that the pieces are closely stacked. Store in the fridge for 0.5 – 2 hours.

Heat the olive oil in a big pot, add the turmeric, ginger and garlic, fry for a couple of minutes (don't brown).

Add the leek and fennel, fry for another couple of minutes, season with salt and pepper.

Add the fish stock/water with anchovies, parsley and dill stalks, add sheet of kombu, bring to a boil.

Add the tomatoes, grated squash/sweet potato, and the lemon juice from the marinated salmon, simmer for 20 minutes or until the vegetables are soft.

Before serving add the marinated salmon and lightly simmer for 3 minutes (flesh will still be slightly raw inside).

Garnish with chopped parsley and dill.
Notes
The soup base freezes really well and can easily be made in bulk. While marinated salmon will always be best fresh, it can be frozen too. Make sure to remove all its juice (can be added to the soup) and store it in an airtight container.