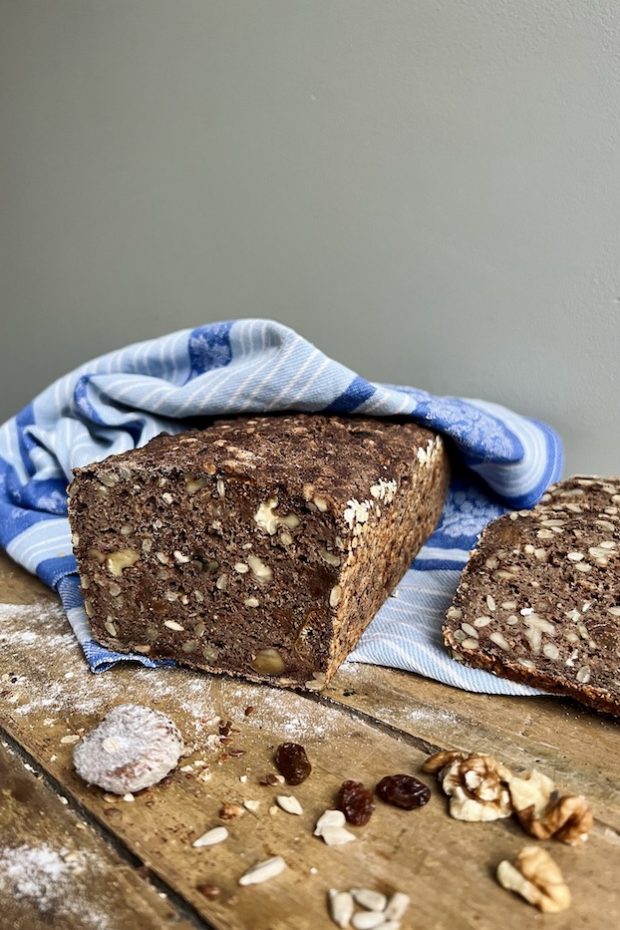 Gluten intolerance is one of the most common food sensitivities and is linked to many health issues. A lot of people, and especially those with gut related problems, can benefit from excluding gluten for at least a while.
In our modern Western diet, grains make a huge part of our daily meals. Ditching them leaves space for more nutritious foods such as vegetables, healthy proteins and fats. The idea is not to replace all gluten containing foods with gluten free options. More often than not, those are full of fillers and artificial junk. That's why I like to go for my homemade, gluten free option.
This bread is made with only natural ingredients and contains no gums like so many gluten free recipes. Through the slow sourdough fermentation process, the lactic acid bacteria 'predigest' the flours and the end products become more digestible.
Using the same concept as regular artisan sourdough home baking, this bread is baked inside a Dutch oven for optimal moisture retention. This is especially important for bread that lacks gluten as a binding agent. It therefore has the tendency to become dry and crumbly.
With a crispy crust and a medium-dense crumb, this bread has only a slight sour hint, balanced out wonderfully by the dried fruit, chestnut and carob flour.
Gluten free Sourdough Bread
This gluten free sourdough bread is optimized for digestibility through the fermentation process, and is free of fillers. While a bit of a geeky process, it's worth every bite: a perfect crust and a rich, slightly sweet crumb.
Ingredients
250

g

whole rice sourdough starter

450

ml

water

150

g

oat flour

gluten free

80

g

white rice flour

30

g

potato starch

60

g

chestnut flour

2

tsp

unrefined sea salt

150

g

raisins and dried figs

figs quartered

100

g

sunflower seeds

60

g

flax seeds

crushed

100

g

walnuts

20

g

carob flour

butter

to grease the loaf pan

gluten free oats

to sprinkle the greased loaf pan
Instructions
Feed your sourdough starter twice to properly activate it and reach the volume of more than 1 cup.

Add sourdough starter, water, oat flour, rice flour, chestnut flour, potato starch and salt to a bowl. Mix well, cover with a wet tea towel, let rise over night.

The dough should have significantly risen and formed bubbles on the surface.

Add raisins, sunflower seeds, flax seeds, walnuts and carob flour. Mix well.

Grease a loaf pan of 30 cm with butter and sprinkle with gluten free oats.

Carefully transfer the dough to the loaf pan.

Let rise in a warm spot for another couple of hours or until the dough has risen more or less to the top of the tray.

Set the oven to 250 °C / 480 °F. Preheat a big enough Dutch oven (lid on) or bread baking pan for 30 min.

Remove the Dutch from the oven and carefully place the loaf pan into the Dutch oven (keep on the oven gloves!).

Bake the bread for 25 min, lid on.

Take the lid off, turn the heat down to 200 °C / 390 °F degrees and bake for another 25 min.

Let cool down for 10 min, then take the loaf pan out of the Dutch oven. Let cool down for another 10 min, then carefully flip the loaf pan upside down. The bread should come out easily. Let cool upside down on an oven rack.
Notes
This bread keeps well much longer than most of the gluten free breads I've tried so far. Depending on the temperature it's best to store it in the fridge (in an airtight container) after a couple of days. I like to freeze a couple of portions of sliced pieces for later use, best toasted.